Integrate your PBX and your CRM with 3CX PRO
With 3CX you can integrate your CRM, ERP and Accounting System with your PBX and be able to launch calls with a single click. Inbound calls are automatically linked to the customer record which pops-up on the screen and all calls are logged in the CRM package.
Additionally, your agents can easily keep track of customer interactions, ensuring that records are always up to date for real-time access to contact details and information. Integrate 3CX PRO to MS Exchange, Salesforce, Microsoft Dynamics, Microsoft Outlook, Office 365, Zendesk and more! If your CRM software is not included in our list of applications you can easily integrate it yourself.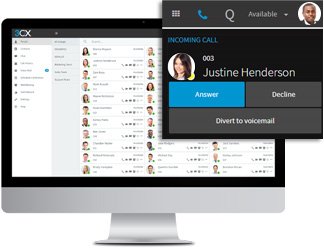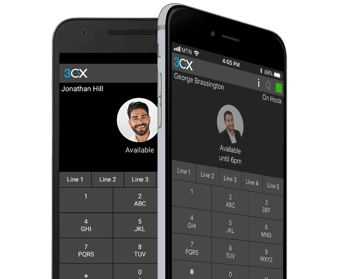 3CX is Your Unified Communications Solution Made Easy
No matter how big or small your company is, the right Unified Communications solution can take your business communications to the next level, helping to improve collaboration, boost productivity, increase mobility and enhance the customer experience. 3CX's UC functionality is inbuilt and included as standard on-premise or in the cloud, all on one user-friendly platform – no need to purchase add-ons or extras.
With 3CX's modern, intuitive VoIP softphone and smartphone apps, users have instant access to communication tools such as status, instant messaging, web conferencing, the ability to chat & talk with website visitors, fax & voicemail to email and more
See the Status of Your Colleagues
The ability to view the status of other colleagues is a great time saver, avoiding unnecessary call transfers or voice mail tags, and makes managing and working with remote employees easier than ever. Need some quiet time to finish a project? Customize your status and prevent any annoying disturbances.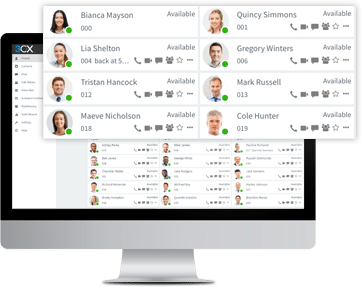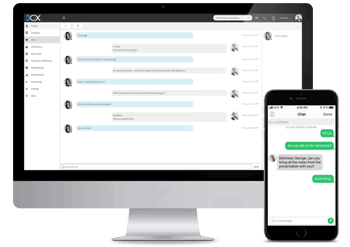 Instant Messaging / Text chat
Allow employees to communicate together via text messaging, without the need to rely on third party internet messaging systems or give out personal phone numbers. 3CX users can send and receive text messages via the 3CX web, Windows, Mac, iOS and Android apps from anywhere – a true unified communications solution!
Click to Call from Any Browser or CRM
With the 3CX Click to Call extension for Chrome and Firefox you can make calls directly from any browser or CRM via the 3CX Web Client. Make outbound calls with a single click of the mouse and eliminate the need to copy and paste numbers.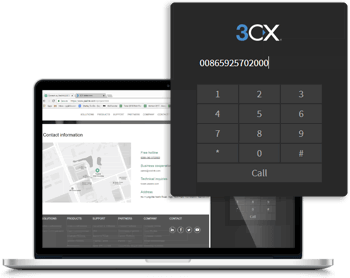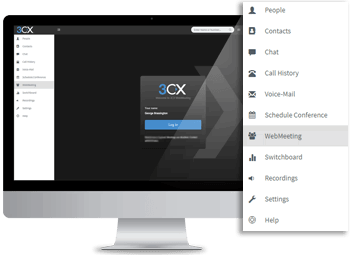 Integrated, Free Video Conferencing
Video conferencing has become an essential part of daily business communications. Whether its to catch up with a team member who is travelling or to give a sales presentation, no one can argue that its a means of communicating that has become a part of the norm. 3CX's integrated video conferencing is easy to use and enables businesses to save time and money by hosting virtual meetings, whilst enjoying the benefits of face-to-face communication. Video conferences can be easily launched through the 3CX web client with a few mouse-clicks and can be used for a wide variety of everyday communication needs to boost productivity and efficiency.
Video Conferencing for All
Whether a small business or large enterprise, companies of all sizes can now take advantage of  video conferencing as an advanced real-time collaboration and online meeting tool. Avoid paying a monthly subscription fee for each user and implement open standard peripheral hardware for an inexpensive solution.Unlimited users means inefficient and unprofessional account sharing is eliminated.